Beginning Bible Reading Plan

This is an excellent Bible Reading plan to start out with, or use to refresh yourselves in Him. In just a few minutes a day for a month, you will be stronger in your faith and knowledge of our Lord and Savior Jesus Christ!

(11/15/2007)

Comfort in Suffering

How to Handle Sufferings Part I Why", "why", "why", "why"….? This is what I have said so many countless times throughout my life when bad things have come my way, and these ""whys" have been voiced to me as a pastor by so many countless people, too. In fact, I do not remember any conversation with a person who has been through a rough time or a loss that "why" has not come up. "Why" seems to be the theme, subject, and topic that confronts me both as a person and as a pastor. We all ask, ask, ask, "why", "why", "why"! Yet, what I have gleaned from the Scriptures and learned from life is that it is not...

(8/16/2007)

The Leadership Challenge

Our Expectations or God's Characteristics" Leadership expectations of pastors and elders are often unrealistic and not centered on what leadership is really about. Too often people confuse...

(1/2/2008)

Is there Fruit in your Church?

Fruit of the Spirit Part V Does your church have love, joy, peace, patience, kindness, goodness, faithfulness, gentleness and self-control pouring from its leaders and most of its people, on your campus and into the streets where its people are? If not, something is terribly wrong!

(4/6/2009)

Heartfelt Devotion

Real heartfelt Devotion is being devoted to Christ because He is our all in all. It is aligning our personal desires, our plans, our worship, and our hope with God and His principles. It is an attitude more than an act, a pursuit to be offered to God to give Him glory through our...

(10/17/2007)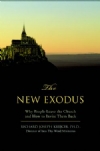 Why People Leave the Church and How to Invite Them Back
..this is the Book originally called "Pew-Sitting," as some of you were asking about, when it will be ready. here it is!
Christianity without Discipleship is always Christianity without Christ!
We are here to help equip and encourage you to grow deeper in your walk with Christ and impact others around you.