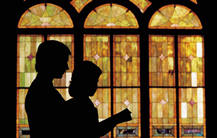 Do You Know What Worship Is?
Worship is a covenant and call from our Lord to come before Him and meet with Him with reverence, gladness, and joy.
It is a call to know Him intimately and express appreciation to Him with praise and thanksgiving, doing so with passion, sincerity, conviction, and in reverent fear and trembling. Worship is the aptitude, attitude, and practice of expressing the desire to know our Lord and Savior further, and being grateful for Who He Is and what He has done for us. Worship is the giving of our best to Him. And, we do this because we are His; we give Him our heart that is already His. He has given His best to us already; in addition, we are enveloped into His eternal love and care for pure and useful purposes.
Understanding Worship Part 1 Worship will be the central aspect of Heaven. Thus, it must be the central aspect of doing church, and of each Christian's life!
Gratitude is an attitude of being thankful for what He has done for me! When we fully recognize that our greatest problem has been solved, our indebtedness of sin, we can feel and know...
Real heartfelt Devotion is being devoted to Christ because He is our all in all. It is aligning our personal desires, our plans, our worship, and our hope with God and His principles. It is an attitude more than an act, a pursuit to be offered to God to give Him glory through our...
Are you being impacted by Christ or just your ideas of praise and worship? Is God impacting you and you are letting Him know so, so He can continue to impact you and others around you.
You can also Worship God through Prayer! Here is an teaching outline you can use for your lessons or personal learning on how you can be inspired to worship God through prayer.
When the average Christian thinks about worship, they tend to think about music or how a service is planed out. Perhaps a favorite hymn comes to mind or a praise song that captivated him or her in some moving response. This is sad so to speak, for music, as wonderful and impacting as it can be, is not worship. It is an expression of worship, but it is not worship. Worship is the attitude of our hearts in gratefulness for who our Lord Jesus Christ is and what He has done for you and me, and our commitment to express it with an attitude of gratitude in our daily lives. And, of course, we can use music to do this; however, true worship is meeting with Him, our heart pouring out to His.
Bible passages on knowing about worship: Deuteronomy 6:4-9; Psalm 50; Psalm 65:13; 79:13; 95:6-7; 100; 150; Matthew 4:10; 2:2,11; 14:33; John 4:23; 9:35-38; Colossians 2:9; Hebrews 1:6; Revelation 4